+MoreCContact Us
Telephone:+86-519-88786486
Fax:+86-519-88498567
Email : lily@yaseneas.com

Skype:silentsl
Address:100-1 Hengyu Road Wujin District Changzhou Jiangsu China p.c. 213101
Home >>Technical SupportTechnical Support
What is EAS
2016-7-22 16:51:23
1. What is EAS
An EAS(Electronic Article Surveillance) system has three components to protect merchandise from theft:
1) Electronic sensors(labels and hard tags) --- attached to merchandise.
2) Deactivators and detachers-used at the point of sale electronically deactivate labels and detach reusable hard tags.
3) Detectors---act as a supervisor at exits or checkout aisles.
2. How EAS Systems Work
EAS systems operate from a simple principle regardless of the manufacturer or the technology used:
a transmitter sends a signal at defined frequencies to a receiver. This creates a surveillance area at
a checkout aisle or an exit. Upon entering the area, a tag or label with special characteristics creates
a disturbance, which is detected by the receiver.The tag is the key element.
1) Acousto-Magnetic Technology

Transmitter create a surveillance area where tags and labels are detected,hen the transmit signal
pulse ends, the tag responds,emitting a single frequency signal like a tuning fork. The tag signal is
at about the same frequency as the transmitter signal. While the transmitter is off between pulses,
the tag signal is detected by a receiver.
A microcomputer checks and at the correct repetition rate. an alarm occurs.
2) Electromagnetic Technology

The electromagnetic EAS system creates a low frequency electromagnetic field
between two pedestals at an exit or checkout aisle. Then will happen just like the picture.
3) How Swept-RF Works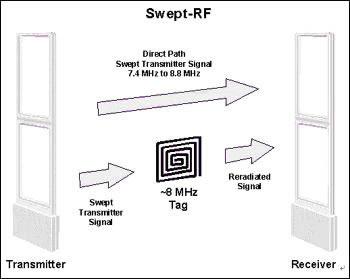 Like other EAS technologies, swept-rf uses a transmitter to create a surveillance area where tags and labels are detected.
The transmitter sends a signal that varies between 7.4 and 8.8 MHz (millions of cycles per second),
which is why it is called swept; it sweeps over a range of frequencies. The receiver recognizes the
presence of a tag and generates an alarm..
Previous: 没有了!